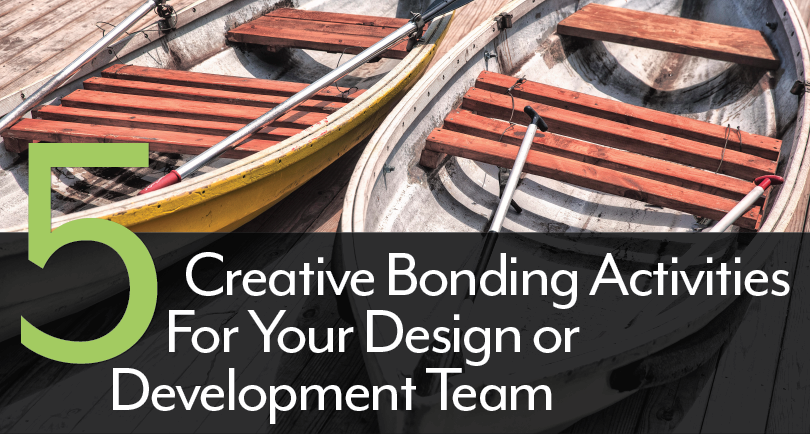 Guest post by Andrew Noll of ISO Developers
---
5 Creative Bonding Activities For Your Design or Development Team
Offices create a dynamic environment for deep levels of intrapersonal communication via shared coworking space and shared mission through project collaboration. Design and development teams especially work this way, but paradoxically are often pulled inward to spend the majority of their time alone working on time-dependent projects. How do you create a shared experience for your design and development teams to intentionally foster deeper levels of intrapersonal communication, and how is this relevant to the success of your project? Keep reading to learn 5 creative bonding activities to foster this interconnected mindset, and develop the interpersonal environment in your workplace.
Conferences and Hackathons
One great option for designers and developers are conventions or development workshops. In the development world, many developers get together for hackathons. These are popular worldwide and are a good opportunity for teams to show off skills and grow professionally. It might even be a good idea to organize a hackathon, or if that's not an option, simply find one online and attend as a group. More design-oriented teams should attend conferences instead of hackathons, and while it usually isn't in the budget to send an entire team (unless you organize independently), you can always bond with 1 or 2 colleagues and easily get approval for that. Here is a list of Web Design conferences for 2016.

Conferences and hackathons are also great opportunities to meet others in the industry, and allow for networking and can disclose a level of skill and professionalism within a professional network. Practice team building at a development workshop and your team members will learn new skills as they work together. All of this will keep you up-to-date on industry trends and help with B2B selling as your team strengthens its ability to communicate and work as a team to produce better results.
Artistic or Scientific Excursions
Designers are often artists and developers are often scientists. Depending on the makeup of a team, different team excursions will stimulate a team's creativity. Attend a museum or exhibition that displays art or details scientific discoveries, or alternatively, head to a film festival or lead a film screening. This doesn't have to break the bank with a little resourcefulness, find free museums, host a screening at the office, or find a park! If there is a budget, consider renting out a theater room. Play movies relevant or irrelevant to design and development, and have fun!
Some films for developers might include: Pi, Blade Runner, The Matrix, other sci-fi films or documentaries.
Designers might appreciate: Hausu, Fantastic Planet, Amelie, Eternal Sunshine of the Spotless Mind and other artistically-oriented films.

Remember that not everyone is likely to agree on a film, and it might also be a smart move to have dinner before so there can be time for networking. Also, consider polling your office to find what is most suitable for the majority. Artistic and scientific excursions can be a good way to share ideas, spark conversation and lead to new synergistic creative efforts.

Another option is an improv class. This brings people out of any comfort zone and break down interpersonal barriers. It goes without saying, but is crucial to the success of this sort of venture, make sure to establish a judgment-free culture before starting this activity. Simply stating this can be a good way to keep your team comfortable and willing to be weird, without fear of reproach. Consider the makeup of your team and try to get introverts to speak out by breaking down into smaller group settings, then re-grouping. This can be a good way to get everyone together and can improve group dynamics for future projects.
Outdoor Activities
A few possibilities include nature tours, hiking, barbecues, and picnics. This is a great way to get out of the office and build a sense of community. Let's be honest, most of us don't go outside enough and would benefit from a little fresh air and exercise, so why not do it collectively with the people you see the most?

Many designers see nature as an opportunity to practice photography. If there is an inclination, play sports or other games. These can be great team building activities, for fun or for prizes. An outdoor environment helps most people to recharge and allows for healthier mindset and more productive work in the coming days.
Another idea is to choose a trip relevant to the company or work on a project that impacts the community. For example, I painted a house with co-workers from Philips through Rebuilding Together and it was a great opportunity to develop relationships and do something good for the community. Community impact activities serve the primary goal of improving workplace dynamics and secondary goals of being a positive force in the world and improving company image.
"Hipster" Restaurants
In general, eating is a social activity. Make it more interesting and go to lesser known places to surprise co-workers with a new experience. This can be company provided or out of pocket, at the discretion of the organizer. For example, go out for brunch on a Sunday, lunch during work, or dinner after work. It can be as simple as ordering food for the office; everyone will come together to revel in the free food. These events can occur at multiple times throughout the year on a cyclical schedule, or they can be one-time outings.
It is usually better to have these events without team exercises. The goal is to create a stress-free environment so that everyone can interact and be themselves outside of work. You'll be surprised at how different some people can be outside of the office!
Boat Cruise
With locations in Boston and New York, our company, ISO Developers, has the option to do boat cruises year round. If you live near a large body of water, or choose to make the trek out, this is a good opportunity to get to know your co-workers in a more relaxed environment. Being on the water is a good way to unwind and can also be a source of inspiration for designers. Developers can clear their thoughts when surrounded by the waves.
A boat cruise can be an eye-opening way to learn about others. Whether an all expense paid through the company, or out-of-pocket, or even a hybrid approach, make sure to tailor this to the budget and needs of your co-workers.
An Opportunity
A shared experience makes for more interconnection with colleagues. People are friendlier and work hours pass by way more quickly. Know each other outside of the office, or in a more informal atmosphere as a great way to develop a personal identity and to better understand the team. Designers and developers work more effectively when they are close and bonding, and this creates new dialogues that stimulate creative output and problem solving.
Lastly, keep track of effective team events and find new ways to implement them. For example, have a team dinner at a different restaurant each week, and make sure to get feedback. This doesn't need to be a complicated process, but try the best to include everyone and shake things up so that you can draw new faces to these events. Team events can be a great way to establish and develop a sense of closeness that will benefit the team and office culture.
Have a cool experince around team bonding or have more ideas? Leave a comment with your experience, we'd love to hear about it!
---
Andrew is the Marketing Coordinator in ISO Developers' Boston office. He joins us with experience in web development, social media, email marketing, and PR. He is a senior in Business Administration at Northeastern University and practices martial arts.
Facebook
Twitter
Andrew at ISO Developers
AndrewJNoll.com
ISOdevelopers.com