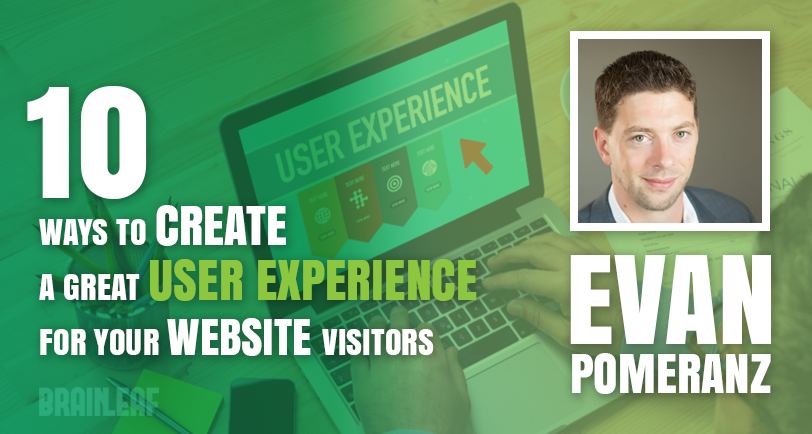 An article by Evan Pomeranz
President of Peak Evolve Mobile Web Solutions
---
What is User Experience? A user experience website, or sometimes referred to simply as UX, is a focus on deep understanding of what users need and want. Massive research goes into what users value, what their abilities are and also what their limitations are. But UX is a growing field that is still being defined.
It's important to test and measure results and keep an open mind, as the needs and wants of users are constantly changing.
Here are 10 ways to provide a good user experience for your website
1. Hook The Visitor in With An Irresistible Offer
Having an incredible offer that pertains to exactly what the visitor wants is a great place to start. A good UX site or advertisement should speak to the user as if it was written exactly for them. Your offer should be direct and straightforward. People don't want to be tricked into clicking on something that is misleading, they want to be enticed.
2. Make It Easy To Read At A Glance
Most people do not read an entire webpage at first glance. They quickly scan it to see if it catches their attention. A good idea is to have a mix of written content and images that are not bunched together or spread out too far either. People will give a webpage 7 seconds before leaving if it does not capture their attention.
It must answer:
What Is It About?
Is It Easy To Understand?
Is It Simple To Take The Next Step?
Answer those questions to make sure you are offering a good user experience.
It's been stated in a Microsoft study from 2015 that humans have an 8 second attention span, shortened from 12 seconds in 2000, thanks to technology. This study has since been dismissed. However, there is evidence, thanks to a study by Nielsen Norman Group, that most people will give a website less than a minute before leaving, so yours should provide a good UX or risk losing that visitors attention and interest.
3. Maintain Visual Appeal
Looks can be deceiving, but they still reign supreme when grabbing a person's attention. In website design, it's important to have a good mix of striking colors, professional layout, and the flow should not make the visitor have to think.
Certain colors will result in more conversions than others. Some cool colors give a certain feeling of relaxation while warmer colors often evoke emotions and can result in action being taken. Using the right color can give your business an edge.
Check out 9 easy ways to increase your conversion rate
4. Mobile-Friendliness
In 2015, it was reported that mobile devices surpassed desktop as the most popular device to view websites on. In 2016, Google changed their search engine to a more mobile-friendly algorithm resulting in an eventual shift to mobile-first. They recognized that mobile devices are the future as they have taken market share away from desktop computers for internet viewing every year since the smartphone came out.
Websites that do not offer a good mobile experience can be detrimental to the business. Non-mobile sites can hurt a company's reputation. 75% of users prefer a mobile friendly site, and 79% of people who don't like what they find on one site will go back and search for another site.
5. Keep A Consistent Tone
Websites that keep a consistent tone throughout each section will maintain a visitor's attention. Consistency is the biggest factor that separates a negative experience from a positive one. If a user knows where to find everything and how to read your content, then you are providing them with a good user experience.
If someone has to change their thought pattern from one page or section to the next, then they have to think about what's going on. Over thinking can lead to frustration. Therefore, it's important to keep a good consistency in tone throughout your site and your content to offer the best experience possible.
6. Maintain Calls-To-Action
You did it. You wrote a killer advertisement, and you're in awe of your landing page. The copy is just right. The images are immaculate. You are sure that anyone in your target niche who comes across it will not be able to resist the website's message.
But there is one small detail that you missed.
You forgot to include the call-to-action.
In the case of a landing page, it's the sign-up form. On a mobile home page, it's the click-to-call button. On a contact us page, it's the find-us link or the email-us button.
Remember to seal the deal with a clickable button or a link to get an intended response from a website visitor.
7. Use High Quality Images
Still unsure if you should use an image over text? The human brain processes images 60,000 times faster than text.
Bright colors and relevant pictures can brighten up a dull page very quickly. The use of high-quality images mixed in with your written content can provide a better user experience than text alone.
8. Display Your Credibility and Trustworthiness
If you have reviews and testimonials, show them off. Display them loud and proud. People trust what their peers have said, and they trust online reviews as much as personal word-of-mouth.
Showcase your testimonials in their own section of the website, or dedicate a page to them entirely.
9. Offer a Live Chat Option
Sometimes it can be tricky to navigate a website if you have never seen it before. Sure, you know where everything on the site is, but your visitors might not. Offering a live chat option can make the experience much more helpful.
Just be sure to have a rapid response from the live chat operator or offer to email the visitor back within a reasonable amount of time, or you could end up with an even more frustrated user.
Find out how much you should spend on customer support
10. Make The Website About The Visitor
This one goes without saying, and it is the most important area to focus on. Your website needs to focus on what the visitor wants.
6 UX areas to cover for the visitor to perceive the website as valuable include:

Useful
Usable
Findable
Credible
Accessible
Desirable
It's not a bad idea to reverse engineer what your potential customer would be looking for and then market your content around that.
You can follow all of these tips to offer a good user experience on your website, but you have to be flexible. Tastes and trends change over time, so it's important to test and measure your results regularly.
---
After 12 years of experience with Sales and Business development, Evan Pomeranz founded Peak Evolve Mobile Web Solutions. His mission is to provide the best websites for small businesses by embracing mobile technology and educating business owners on how to capitalize on this massive market. Certified in Inbound Marketing through Hubspot, Evan continues to educate himself and lead his team to arm themselves with as much knowledge as possible.