Guest post by Sawaram Suthar
---
The advent of smartphones and tablets across every client segment is trending upwards in both the consumer and corporate sectors. The number of smartphones will have quadrupled to exceed 7.5 billion by the end of 2016. The immense insertion of devices into the mainstream implies a drastic development that points toward the elevated interaction between consumers and businesses.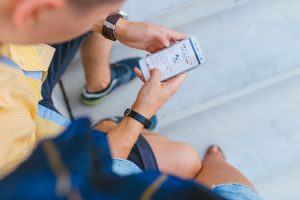 Guess what? 2016 is the year of enterprise mobile applications (apps). It has been 16 years since the inception of the first smartphone, the Ericsson R380.Today, businesses are being thrown into the new culture of mobile computing by continually arming their workforce with portable smart devices. Businesses must adapt to ever-changing strategies, methods and technologies in order to stand up against their competitors within the industry. Whether it be boosting productivity, elevating collaboration or communication, seamlessly integrating enterprise mobile apps for the execution of every-day tasks, is the need of the hour. Being a mobile-time enterprise was never easy. Then, add in the hassles of constant evolution and dramatic amendments in the basic build-up, and it can turn even the most grueling task.
I have compiled a list of steps which, if followed, will lead to an elevated, customer-service provider interaction that goes way beyond the current trends and users expectations.
1. Build a sound foundation for the strategic development of the Enterprise Mobile App
Prior to creating, developing and launching an app, an inclusive mobile strategy is required in order to categorize it as a healthy contender. A single mobile app is not a long-term strategy; but rather, it necessitates a well-thought-out plan which reflects the firm's perspective. Launching an app without proper research and analyzing users' demands may cause more harm than good. Initially, you would lose consumers and revenues; in the long-term; you would have built up a negative brand value while losing potential customers.
A comprehensive mobile strategy involves a multi-stage operation. Initially, when the idea is raw, tests can be conducted to regarding its results. This experimentation and development can be executed without any affiliation with the company's prospects. The results obtained would serve as the building blocks for the exploration odyssey. Once the research is complete, the firm's outlook can be blended into the stream of the app. It would involve rapid toolset implementation with a robust strategy using a customer-centric approach. Finally, enterprise merging can be dealt with. Initiating collaboration across industries and IT units, and making partnerships would solidify the application's stance in the market.
2. Set preferences and evaluate KPIs
An app built with no long-term objectives in context is set to lose customers, be it B2C or B2E centric development. Prior to stepping into the field, the intent behind the venture is to be figured out. It is beyond launching an app on few or multiple platforms. Rather, a process which involves development on all forefronts, a set of objectives must be defined to tread on a central strategy.
Prioritizing objectives are of prime importance to any venture. It can be accomplished by using a Key Performance Indicator (KPI). As we know, it is a business metric based on evaluating factors that are crucial to the success of a corporation. It would provide you with the information regarding the outcome which could be expected out of the venture. The creation of KPIs can be on two fronts, namely, B2C or B2E as per the requirements of the development. Hence, by delivering value to other entities, return in the form of values can be evaluated to your business.
3. Initiate robust content updating procedures
Content is the lifeline for any website or app or better yet, the key to an effective public offering. A seamless app experience can be ensured using holistic management. Ensuring the content of your app caters to the user's needs, is constantly refreshing and engaging and makes for the best in-class user-defined experience.
An effective content-optimization ensures better rankings, robust user involvement and better interaction between the consumer and the corporation. A lack of proper strategy can lead to a loss of consumer's interest in the long run. Personalized content, as per the targeted clientele, which is informative, makes for an effective content offering.
4. Determining the perfect atmosphere for the development
One single device-optimized app or platform-centric development cannot be termed as an effective enterprise mobile app strategy. A strategic development which involves native and HTML5 options can be considered. Native apps offer the richest and most seamless end user experience, as it implicates the device features and functionality in order to maximize its threshold. On the other hand, build-up on HTML5 offers cross-platform, data-rich native mobile apps, which, yet again, is an effective resort for reaching users across all their devices, and as it turns out, it is quite feasible for the user to engage as per his choice and demand.
A Quick Wrap Up
A mobile app is simply go left of Custimce of the invisible contact between the corporation and the enterprise or consumer. It provides users with integrated access to content, service and your firm's future prospects. A seamless experience is achieved with effective communication between the data sources and the content. During a request, it should fetch information and return results readily. Hence, developing a perfect strategy centred on the user makes for a perfect user defined enterprise mobile app. In no time, you can link to your consumer and boost your business on the odyssey to an ever-lasting uptrend.
---
Sawaram Suthar is a self-motivated digital marketing consultant and founder at Jagat Media – a digital marketing agency. Suthar helps small & medium children and big enterprises to increase their ROI and overall business. Reach him @sawarams or his blog.