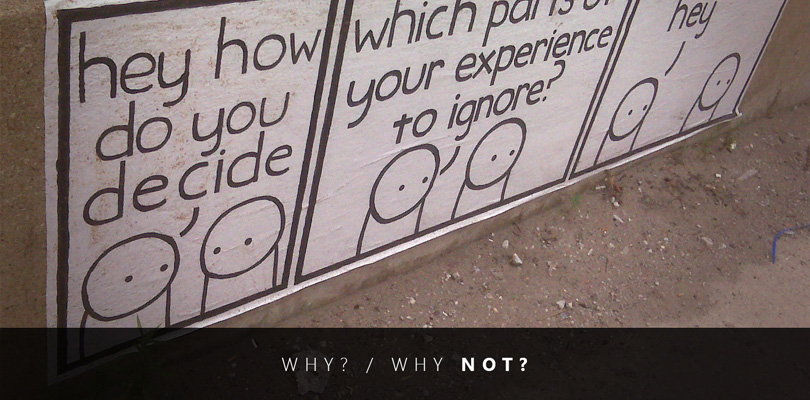 A guest post from Erick Flores, an aspiring young designer from Mexico. 
This is my first post for a blog, ever. I was invited to write here, and I'm very honored. But, honestly, when I was asked to collaborate on this blog, I was kind of afraid. I have never written something like this before, and I didn't knew how to do it. Anytime I need to make a decision (like why I should write for this blog), I begin by asking myself: WHY? / WHY NOT? Asking these two questions often elicits a reflection that helps me understand where I am, where I want to be, and what to do next. Once I answered those two questions, I knew I wanted to share my decision-making process and why people need to have dreams.
WHY? / WHY NOT?
When I began my bachelor's degree in 2010, I didn't know what was I going to do when I finished school in 2014. (Who in the world knows? I hardly know what I'm going to do tomorrow!)
I started school in the graphic design program and changed to industrial design at the end of the very first semester. I did have a goal in mind. I wanted to have my own design studio someday. I knew neither when, nor how, but I just wanted to own one. Even now as I write this, it sounds childish and idealistic.
Finally in June 2014, four months ago, I founded my own design studio together with one of my best friends. What's been most surprising is that it's actually running incredibly well! I can hardly believe it.
But that company is not the point of my post. What I really want to highlight in this entry is what it took to make my dream a reality.
You may think I was an outstanding student with the best grades, always doing my homework, with no social life, no friends, no girlfriend, nothing but school… But nah, none of that is true. In fact, I am an ordinary person. A regular student with average grades and an ordinary amount of talent. But the one thing I have that is not ordinary is my dream. My dream is anything but ordinary.
While other talented guys (some of them, I confess, I kind of envy) dreamt of landing a well-paying job in a big studio or working for an important international brand, I dreamt of creating a studio where talented people want to work and where I can work with them. It's my dream, but not everyone needs to own their own studio to be happy. You can dream of doing whatever you want, but the point is to have a dream. It will be the biggest difference between you and others in your field: your ability to dream, to set goals, to shake the fear of failure.
When I started school, I was an ordinary guy with a dream. Today, I am the same guy, but the difference is that my dream became a goal, which turned into a reality. I really believe when you focus on a dream or idea, you embrace it and take it wherever you go. So that no matter what you're doing, all of your actions and thought move you unconsciously closer to your dream. When you embrace your dream, everything you do takes you there.
WHY? / WHY NOT? Reflection Exercise
With this in mind, I would like you to make a reflection and ask yourself:
Where are you now?
Are you happy with it?
If not, WHY?
Are you going to do something about it? WHY NOT?
If you are stuck somewhere you don't like, I hope this post helps you learn to believe in yourself, to love what you do and never be afraid of dreaming big. I promise nothing bad will happen. There may be obstacles, but nothing is impossible.
Most of my decisions begin by asking myself: WHY? / WHY NOT? If you use them sincerely you'll realize that often there are so few reasons why you shouldn't take the risks, and hopefully you won't regret what you have done.
Thanks for reading, and hopefully we'll be in touch in this space.
---
About the Author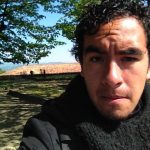 Erick Flores was born in Mexico City in July, 1992. He is about to finish his bachelor's degree in industrial design and just co-founded a design studio with one of his best friends (Eduardo Aire), "Il Corso Despacho Creativo." He believes sharing experiences and teamwork are two inspiring ways to reach beyond boundaries, which are often more psychological than physical. Erick dreams of transforming the Mexican design scene so that it can be both locally and internationally recognized as one of the most important design countries and sees design as tool of progress for the Mexican people, including business and daily life.
You can find Erick on Facebook, Instagram and Behance.