When I was in freelance copywriting, referrals were a ray of hope – the best kind of lead I could ever have.
I always thanked each referrer with my book or a notecard. So, besides our undying gratitude, how do we help along that process… without seeming pushy?
Creating a solid freelance business takes time, but one of the most economical and quick ways is to encourage word-of-mouth business.
In Person Networking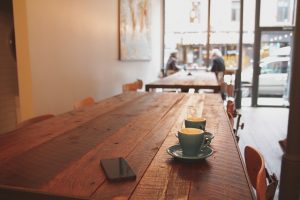 In the digital age it's easy to overlook the power of networking with people face to face. If you lend an ear to someone who needs to vent, you're planting the seed of trust which can lead to valuable business relationships. Often times people are looking for advice for their own businesses. All you do afterward is mention what you do and give a card, and after a quick email to ensure that their issue was resolved—you more often than not receive a referral or a direct project.
Building Relationships Online
This can also work to some degree on Facebook or an online forum if you participate in a business group that allows for honest conversations. Usually, you will need to build on that initial contact though because online we are not using our full spectrum of body language, tone of voice, and empathic sounds. So the person may still feel that they don't know you very well. Perhaps invite them to a local business event or have a coffee, so they can get to know you and learn more about the value you can provide. If this is not a realistic option, you can set up a video call using a program like Google Hangouts or Skype. It's the next best thing to being face to face.
Don't be shy to share your expertise with people. Your advice can help others, it costs you nothing, and it gets your name out there. Everyone wins.
Give First
Buying a peer's product is often worth five times its value in karma. Once, I went to a free workshop by a mind-set coach. Towards the end, the speaker mentioned her book and CDs. I gladly bought her book as it seemed of interest to me (and people love it when you buy their book). Later, I posted a positive Amazon review for it. She had my card and knew what I did, but she had never even read my writing. About one month later, she gave me a solid referral to another author who wanted help with an ebook and a biography.
Referrals Reciprocity
By buying or trying someone's product and giving a fair review, you have created what is called a "reciprocal gap". The principle of reciprocation is invoked because you have just done two things for them. Thus they feel a strong urge to redress the balance. This is the passive method, and it works, but not 100% of the time.
If you have begun to form a relationship with that person, you can contact them directly to give additional feedback or advice. Getting a one on one conversation started ensures that you're memorable to them.
Ask For Feedback
This method can work for any freelancer especially if you have a particularly successful project. On finalizing each project, I tend to ask for written feedback in the form of a testimonial.
If the feedback was 99% positive, then call and thank them, and ask for anyone they know who might "need a more modern web design" or "better web copy that makes their goods sell". Even if the feedback is not all good, it's valuable to know what could be done better.
Set Yourself Up For Referrals Down The Road
Don't put people on the spot, this is often met with "ah… I can't think of anyone right now". Instead, leave an open door for them. Mentioning specific information about what you offer may later trigger a memory of, say, a business contact who has a terrible-looking website that they really should change.
Of course, there are many other ways to encourage referrals and gain trust. That said, in a support type business, listening techniques and collaborative relationships tend to work better than discount coupons and so on. Try it and see.
Want more? Check out the 5 Tools to Build Credibility for Your Freelance Business
---
Jennifer Lancaster is an author, editor and publishing supporter. Spending a decade in the freelancing world has enabled her to help others in her new short book 'How to Start a Freelance Business'.