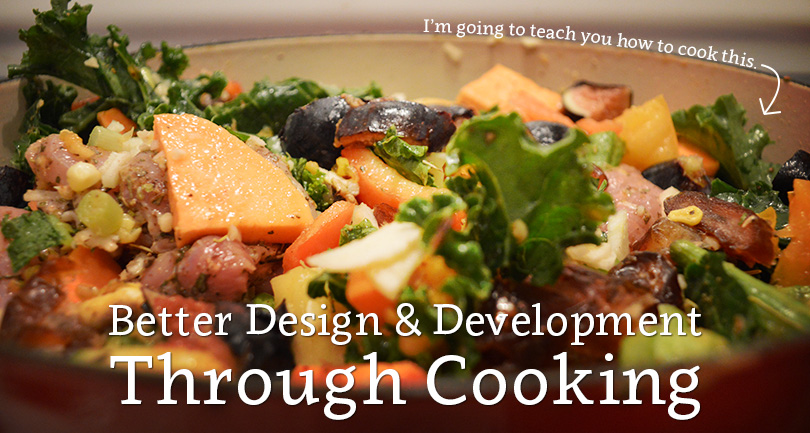 People in our industry spend a lot of time in front of the computer. It's part of our job, but all that sedentary time needs to be offset with a reasonable amount of activity and healthy food. So, this week I want to share one of my favorite recipes that you can cook on Sunday and eat throughout the week.
Cooking at home
So I work from home most of the time. It's just me in front of this computer all day, most days. Like a lot of you, I talk to my team via Skype, Google Hangouts, and the phone all day, but when it comes time for lunch I am eating all alone a lot of the time. Something that I've worked to change is how I eat. Instead of going out for lunch, I like to shop and cook on Sundays and freeze what I made for the week. What you cook at home can be a LOT healthier than what you eat in restaurants.
So today I want share one of my favorite recipes with you. I happen to live about 10 minutes from the international farmer's market, so I have access to a lot of food that other people may not, but much of this recipe can be modified. Take a look at the notes at the bottom for more on this. So, here we go…
Jason's Awesome Stewed Chicken
I love this recipe because I make it on Sunday, put it into 3 or 4 freezer bags, and freeze for the week. Just defrost it when you're ready and warm it up in the microwave. It also turns out that I'm actually cooking this recipe right now, and wanted to share.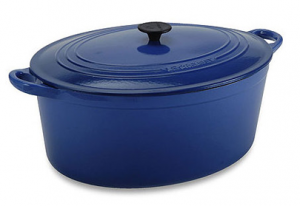 You need a dutch oven for this recipe. Any pot that can sit in the oven with its lid on for an extended amount of time without melting, crumbling, or otherwise falling apart is basically a dutch oven (took me forever to figure out I had one sitting in my kitchen already).
Make sure there are no plastic parts that will melt! I use a Le Creuset dutch oven for this.
Ingredients
1 sweet potato – peeled
2 handfuls of fresh, chopped okra – fresh makes a difference
1 medium zucchini
1 handful of mushrooms
1 red pepper
1 pack of baby onions or one small onion
1 tomato
4 small carrots
2 large cloves of garlic – chopped
1/2 a bunch of kale
4 dates, chilled and sliced
4 figs, chopped
1 1/2 lbs of boneless chicken thighs
Spices
onion powder – 1 tsp
rosemary – 1 tsp
paprika – 1/2 tsp
sage – 1/2 tsp
2 bay leaves
salt – 1 tsp
pepper – 1 tbsp
oregano – 1 tbsp
olive oil (just pour some on, it's for taste)
white wine (1/4 – 1/2 a cup)
Directions
1. Chop up everything except the chicken.
2. Put it all into a dutch oven. Don't forget to put the lid on!
3. Put the dutch oven into the oven.
4. Cook for 2.5 – 3.5 hours at 260 degrees.
5. Take it out, serve yourself dinner.
6. Let the rest cool off some and then put it in plastic bags and put those into the freezer for tomorrow or later in the week.
Notes on this recipe
You can take some things out, add some things in, change things around, etc. and it is going to turn out pretty well one way or another with this one. If you don't like figs, take them out. Want some celery in there? Add it in. Want some more sweetness in it? Add some currants. You get the point.
Work hard, eat well, be active, and live a good life everyone!