A post by Bryan Davis
Good news!
In the digital age, you don't need a lot to market yourself. Marketing strategies that are considered bare minimum will still benefit you in the long run.
Here is your digital marketing survival guide with 5 ways to help you elevate yourself to the top of your game.
Explore Your Online Marketing Options
There are plenty of digital marketing channels like SEO, PPC, display advertising, video/affiliate/email marketing, to name a few. You can use these to promote your brand or yourself, and it will not cost much.
Content Marketing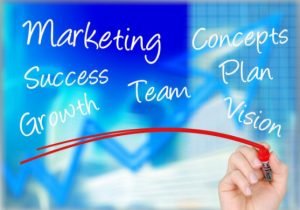 Building a website is now easier than ever and it's imperative for sharing information about you and your brand or services. If you've had trouble with building a site in the past, and using a good Content Management System or CMS can make a big difference.
Content management systems like WordPress offer tons of themes. There are a lot of things to consider when choosing your theme and it's certainly best to do your research up front. If options like WordPress are a bit too involved, other services offer an all-in-one solution with a simple drag-and-drop design.
It's a Blog Eat Blog World
If you don't have a blog, or if you're posts are generic or few and far between, you're missing out on a major marketing opportunity. The more care you put into sharing your expertise with your readers through your blog, the more interest and trust you will generate from your readers.
Not all blog articles are for all readers. If you're not seeing the result you expect you may be marketing to the wrong crowd. The first thing you need to do is determine your target audience. Do not create content that you find interesting, write for your readers.
Keep in mind that there is such a thing as too much content. Most online users do not read nowadays, they scan. If you don't have catchy phrases and buzzwords, you're doing yourself a disservice.
Use Social Media To Its Fullest
When it comes to digital marketing, social media should be at the forefront of your approach. It allows you interact directly with your audience, post new materials, and keep them informed on facets of your venture. Social media is also great for generating links, which you will need for SEO.
Search Engine Optimization
Once you have a killer site and an awesome blog, you need a way to get people to notice it. SEO could be the answer. Having keywords that clearly define what your services are about is paramount. If done correctly, SEO can become a primary source of traffic, particularly new traffic.
Email Marketing
Some industries find that email marketing is a great tool for increasing profitability and getting repeat business. If you do it right, email marketing can be a big boost to your bottom line. Most services provide robust metrics, and you can easily tell gauge the interest level of your subscribers. If it works, keep doing it. If not, adapt your content to be more fitting.
Go Forth And Prosper!
With these tools added to your toolkit, you will be equipped to get your business the traffic it deserves. Whether you pay someone to take care of these for you, or you do it yourself, make a commitment to stick with it until you have the results you are looking for. Or at least long enough to determine what works best for you.
Want to learn more? Check out How to Build a Strong Online Presence to Achieve Business Success
---
Bryan Davis is a writing enthusiast with a long-term passion for technology and marketing. Currently working for http://payforessays.blogspot.com